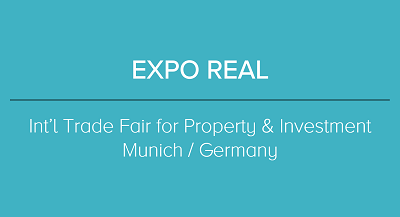 AETHOS Managing Director Thomas Mielke will attend Expo Real - the International Trade Fair for Property & Investment at the Messe Munich in Munich, Germany. The three-day event commences on October 7. 
With well over 45,000 participants and almost 2,200 exhibitors, Expo Real is one of Europe's most important real estate industry events. The sector is concentrating on innovations aimed at simplifying processes and on presenting new market solutions - that holds particularly true for the hospitality sector. Here, co-living concepts have started to gain the attention of investors, operators and developers alike. It is also expected that 'digitalization' and the shortage of talent will feature heavily in most conversations. At the event, the hospitality industry will be represented by delegates and senior executives from across the entire value chain; from investors to lodging operators, advisors, developers and representation companies. Various panel and roundtable discussions as well as events and networking cocktails will offer ample opportunity to mingle and connect. 
For more information, please click here.