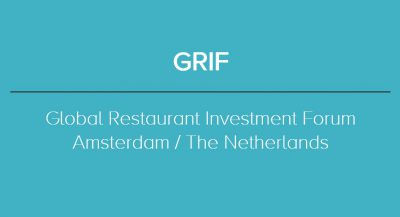 AETHOS Managing Director Thomas Mielke will attend GRIF - The Global Restaurant Investment Forum in Amsterdam / The Netherlands. The conference kick-starts on February 25 and lasts three days, ending on February 27.
The Global Restaurant Investment Forum (GRIF) facilitates investment decision-making within the restaurant space. The forum showcases the hottest restaurant concepts from around the globe and gives attendees a place of focus to connect with investors, owners, franchisors and senior hospitality professionals, assess the state of the hospitality industry and secure deals for the coming year. This year's speakers include Yossi Eliyahoo from the Entourage Group as well as Chef Raymond Blanc, OBE and Legion d'honneur, and Etienne van Unen, Head of Retail-EMEA at Colliers International.
For more information, please click here.