The tech era has highlighted the importance of data mining and data wrangling and has made these processes critical when it comes to decision-making and even tactical execution. It is easy to assume that evidenced-based insights and models would only apply to business metrics and issues, but the burgeoning science of Human Resources shows that "big" data can help in "big" ways to positively impact people metrics and issues. The use of legally defensible psychometric assessments in hiring and succession planning offer clear examples of this.
To illustrate further, let's walk through a SWOT (strengths, weaknesses, opportunities, and threats) exercise using psychometric data from AETHOS' global benchmarks in hospitality. Within the restaurant vertical, having a high-performing operations leader is necessary to any organization's success. Operations is the key component to a restaurant brand and that touch-point can simply make or break the customer experience, as well as profitability. Therefore, we focused our exercise on Restaurant Operations Executives and evaluated a curated group of high performers in senior operations roles using our proprietary 20|20 Skills™ psychometric assessment. In doing so, we discovered a common success profile. The graph below reveals that these superstars are characterized by a mixture of marked and nuanced competencies across Execution, People and Cognitive Skills. This success profile might best be summarized in terms of an effective "Troubleshooter."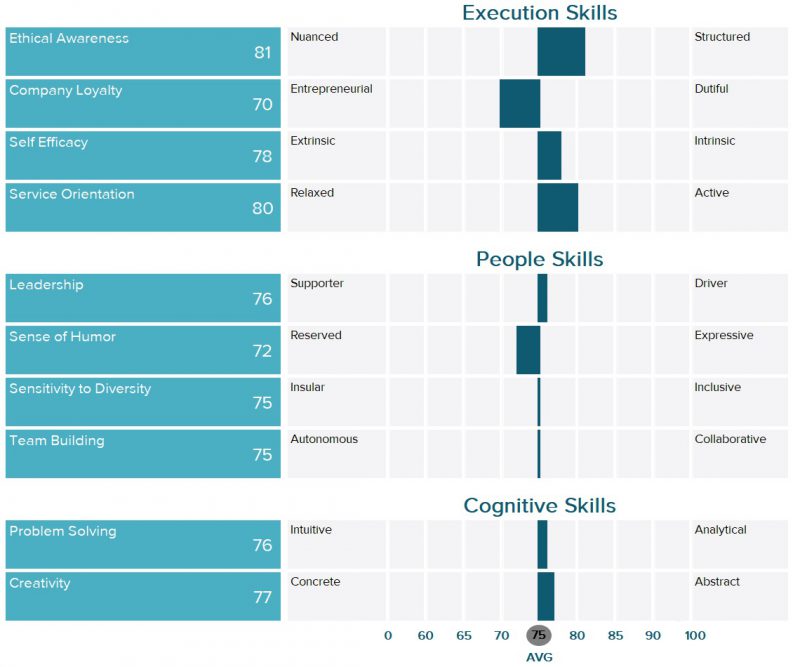 Data mining produced this success profile, but now we need data wrangling to extrapolate its meaningful and actionable insights. This is where an organizational psychology perspective can inform a practical SWOT analysis. The resulting Matrix (shown below) translates the assessment's quantitative data to qualitative descriptions. You will see that every strength has the corresponding potential that can also act as a "behavioural blind spot." Collectively, this assortment of attitudes, skills and knowledge areas can predispose individuals, teams or entire functions to certain opportunities and threats.
"Psychometric SWOT" MATRIX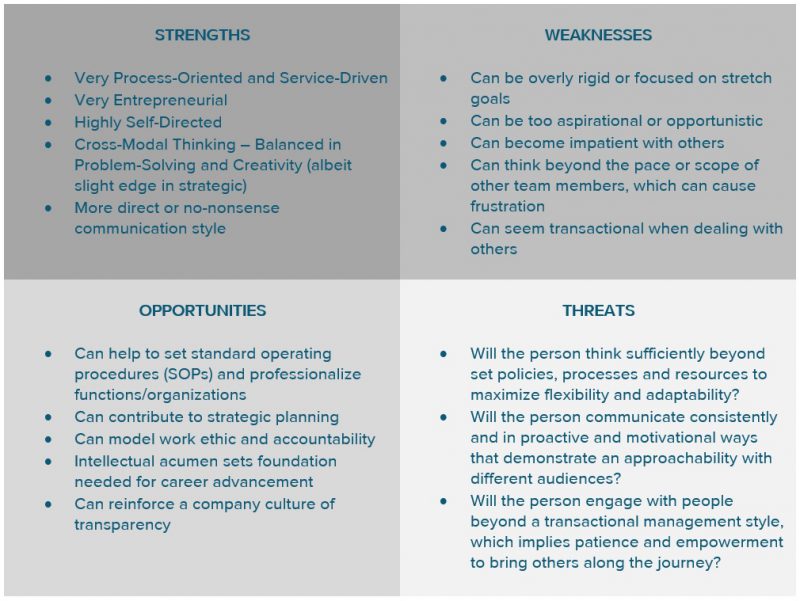 The insights and benefits from this sample SWOT exercise should motivate HR leaders to strive for opportunities to embrace and apply big data to impact their organizations positively. Along these lines, the right assessment tool used the right way can position an organization and its leadership for success now and in the future.
With respect to high-performing Restaurant Operation Executives, this analysis offers a cautionary tale. The same mentality and competency set that arguably drives results in this domain also have the potential to undermine interpersonal dynamics and working relationships. The successful executives keep their "threats" in check by maintaining self-awareness, perspective and realistic expectations of others. Results are not merely enough in today's business environment. More than ever, how results are achieved is a significant part of the equation for an individual's personal success and the company's culture and brand equity.