In preparing each year for our US board performance survey, I often wonder if there will be anything new to discuss. After all, the SEC, White House, and Congress seem determined to define board and CEO performance standards. Then I get to reading annual filings. Some companies are doing an outstanding job and others have a long way to go.
In this 11th study of board performance in the US hotel industry, Host Hotels & Resorts once again leads the way in how a public board should function. Other past winners were in the top five including Morgans and Starwood. Host is the first two time winner of the award, winning our inaugural survey in 1999. This year, thirty-one companies were in our survey, down from thirty-three last year. We ranked participants based on four criteria:
Size, makeup and independence of the board;
Committee structure and effectiveness;
Presence of insider participation and related transactions;
Pay-for-Performance in executive and board pay.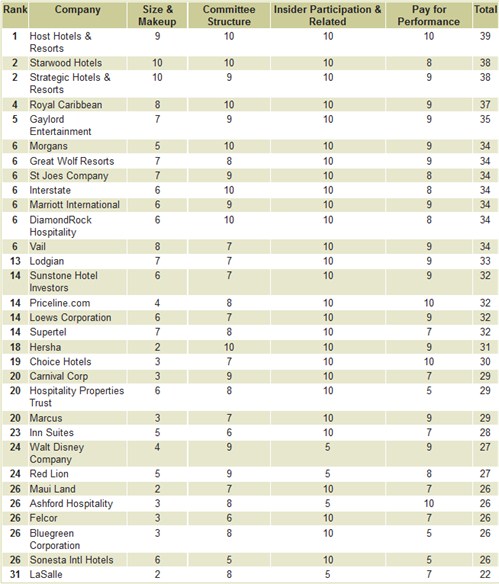 Board Size, Makeup and Independence
Most experts believe that an odd number of board members between 5 and 11 are optimal. As the company grows in complexity so should the number of board members. Fifteen companies missed this easy target. Many were in the midst of nominating another member to the board, so we gave them a pass. Two of the largest companies Disney and Carnival had an even number of directors and more than the maximum eleven. Thirteen companies had an outside Chairman, which is very impressive, compared to other industries. Furthermore, four of the remaining eighteen had lead directors to counter balance the combined CEO/Chairman role. Only eight companies had the optimum percentage of outside directors (greater than 75%). Most of the best performing boards only invited the CEO to join. The poorest performers not only tended to have too many insiders, they also had three year terms. Clearly, this group is protecting the status quo and not the individual shareholder. Only Starwood and Strategic had perfect scores in the area.
Committee Structure
The SEC and governance experts agree that companies should have at least the following committees:
Audit
Compensation
Governance
Nominating
It was also agreed that every committee with the exception of the Nominating Committee should meet at least once a quarter. Only two Audit Committees did not meet the minimum amount, St. Joes and Sonesta. Seven Compensation Committees met less than four times during the year but all met multiple times. This is a vast improvement over the days when many boards rubber stamped executive pay. Most Nominating and Governance Committees were combined and met on an "as needed" basis. Starwood's met the most at ten times and Choice the least with only one meeting. Red Lion was the only company to have an insider participating as a member of a committee.
Insider Participation & Related Transaction
We were impressed to see that there were no "old school" interlocks within the survey group. In fact, only four companies had some form of insider participation. These blatant conflicts of interest are becoming a thing of the past and we suspect that diligence on the part of shareholders is working. Related transactions have also diminished dramatically. These are positive signs that corporate governance policies are being adhered to.
Pay-For-Performance
Priceline, Choice and Ashford were the only companies to get a perfect score in this section. With that said, there was a vast improvement amongst the entire group. Compensation Committees are clearly more focused and thorough in their responsibilities these days. With all the uproar regarding executive pay, we believe public scrutiny will only increase in the coming years. The committee report on board and executive compensation is one of the most dissected sections of a proxy. The SEC, other government bodies and shareholders want to understand the forms and strategy behind executive pay. With the recent financial crisis, boards better be able to articulate why they and company executives are making large sums of money.
Being a board director today is no easy task. Dealing with issues of fairness, transparency and risk are making directorships a full time job. We encourage prospective director to think about these issues before they get involved. Once in the public domain everyone and everything is up for public consumption.