As published by the Casino Journal in Autumn 2019
The list of public gaming CEOs keeps shrinking as consolidation continues to impact the casino industry. It also seems likely that most bricks and mortar casinos companies will make a push to compete with their technology-based rivals. "Gaming" in its broadest sense will force any entertainment organization to consider a multi-segment strategy (think the NFL, FanDuel & DraftKings and Jay-Z). The casino industry will be no different, as younger adults will focus on their mobile device and skills-based gambling. Our list of public gaming CEOs has dipped to its lowest level since we started tracking their pay. In fact, only 12 CEOs run traditional casino operators, another low for our survey.
In this our thirteenth annual study of gaming industry pay, we evaluated the performance of 32 public gaming companies in determining whether a CEO deserved his or her pay. The AETHOS pay-for-performance model compares significant financial metrics such as company size (market cap), stock appreciation (rise in stock price over 3 years), EBITDA growth (over 3 years), and total direct compensation (combination of salary, bonus, LTIP & other). Our findings are illustrated below.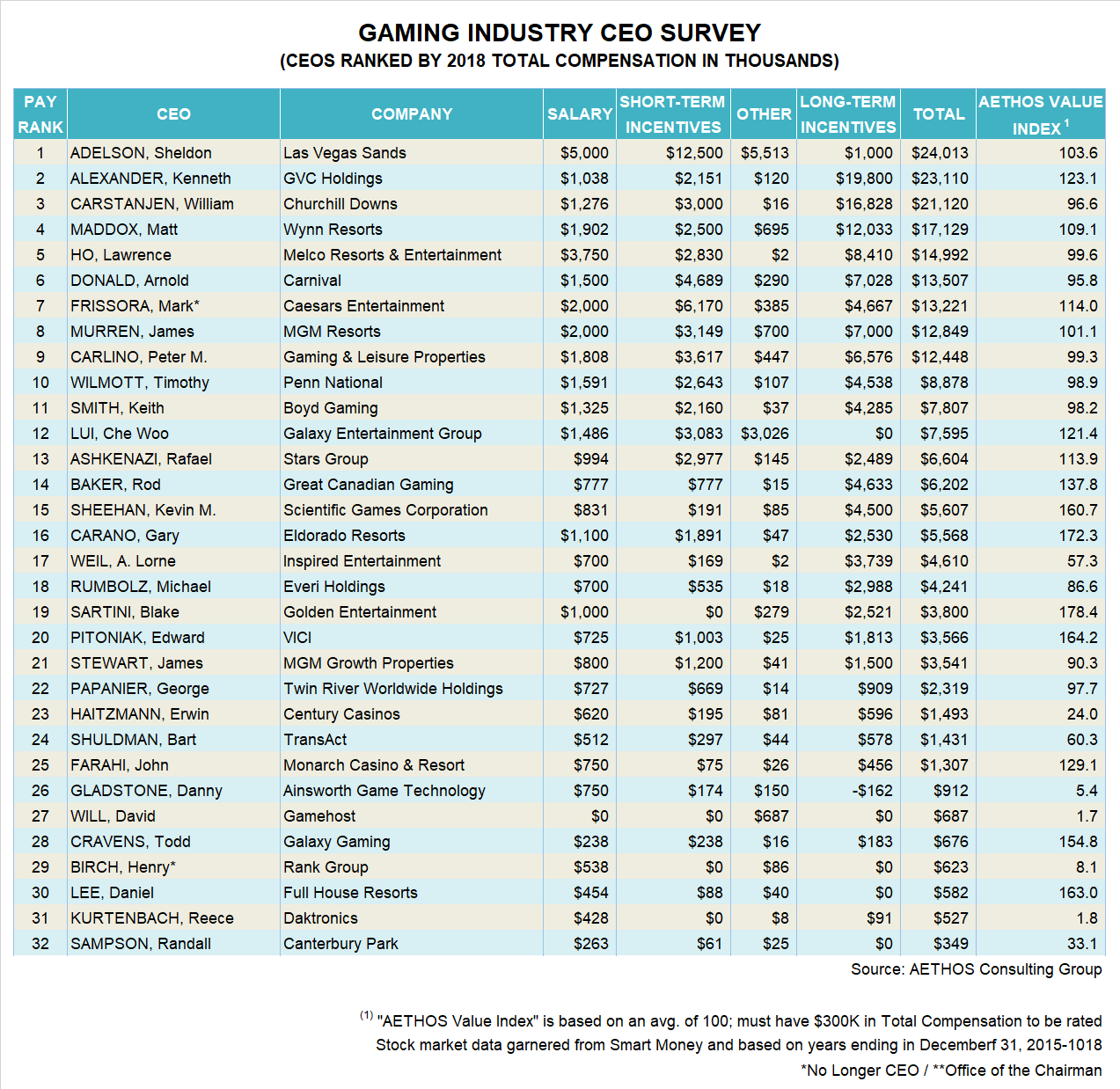 Gaming CEO Pay
Size, in the form of market capitalization tends to dictate CEO pay. The larger companies pay more significant dollars. Sheldon Adelson at Las Vegas Sands was the highest paid CEO in the industry at just over $24M in total compensation. He also runs the most valuable gaming company at a market cap of over $50B. Ken Alexander at GVC followed with a $23M package. Alexander received a bit a grief from shareholders and pundits, and response took a $200K cut in salary. Seems like a drop in the bucket for a guy who has been raking in $20M+ for a couple of years. William Carstanjen at Churchill Downs followed with a $17M paycheck in 2018.
In total, 26 of the 32 CEOs made more than $1M in total compensation. The average CEO paycheck stayed flat from the previous year at $7.2M. A relatively new crowd made our best CEO on a pay-for-performance basis except for Dan Lee, CEO at Full House who has been a top performer for the past three years. Blake Sartini of Golden Entertainment and Gary Carano at Eldorado were in a dead heat for the top stop in our survey. Other top performers included Ed Pitoniak and Kevin Sheehan, relative newcomers to the industry.
Only nine CEOs in the gaming industry received a base salary of greater than $1M. A decline for last year's thirteen. Sheldon Adelson and Lawrence Ho had the largest salaries, at $5M and $3.5M respectively. The average salary of the group came in at just over $1.2M. A slight increase over last year. In the bonus category, Sheldon Adelson led the group with a bonus of $12.5M followed by Mark Frissora at Caesars with a bonus of over $6M. The average CEO bonus for the group was $1.8M, rising another $600K from previous year. This has become a significant trend in overall compensation planning for gaming executives. It also speaks to the annual financial performance of the group. Four gaming CEOs received no bonus including Blake Sartini who missed adjusted EBITDA targets in his bonus plan. This was interesting as he was in our top 5 performing CEOs on a comparative basis. It appears his EBITDA target was an absolute number rather than a relative number.
The largest component of CEO compensation continues to be long-term incentive plans (LTIPs). The average LTIP value was $3.8M, a minor increase from the previous year. Ken Alexander topped this list again with his nearly $20M stock grant. William Carstanjen followed with a stock grant valued at nearly $17M. Twenty CEOs received an equity grant worth over $1M, while only four received nothing at all. Although stock prices of gaming companies got bashed in the fourth quarter of 2018, there has been a solid rebound in 2019.
One of the hot topic issues for compensation committees is that of pay inequality. New regulations require companies to report CEO pay-ratios in their proxies. For example, Arthur Peck the CEO of The Gap, Inc. was identified by US TODAY as having the worst pay ratio at 3,566 times the typical employee. Interestingly, two restaurant CEOs and Bob Iger of Disney were in the top 10, but no CEO from gaming. It is critically important for CEOs and board to be able to justify these big pay-checks to investors and employees. Pay-for-Performance models such as ours need to be front and centre in articulating that everyone wins big if the CEO wins big.