The hospitality industry is one of the world's largest employers; the cruise sector is arguably one of the sub-segments which records one of the strongest growth rates (note: The Cruise Line Industry Association, CLIA, predicts 27 million passengers by the end of 2018). With that in mind, it is no surprise that everyone wants a piece of the pie. Although the market is dominated by just a few big players, new competition is muscling in.
AETHOS recently assessed what it takes for one of those new competitors, the traditional lodging operator, to move into the cruise sector – looking predominantly, at human resources and talent management. One key decision that we have not yet discussed is the relevance of the country where a cruise ship is registered – does or does it not impact the ability to attract and retain talent? Could it have an adverse impact on employer branding?
The Flag of Convenience
During times in which a new generation of employees is increasingly conscious of 'doing the right thing,' as it pertains to sustainability and corporate social responsibility (CSR), could the common best practice of flying a flag of convenience be considered 'bad form?' The flag of a cruise ship governs the rules, regulations and safety norms of a vessel; unlike common belief, an Italian cruise ship does not always fly the Italian flag nor does an American ship brandish the Stars and Stripes. What originated in the Americas of the 1920s, with companies wanting to circumvent the ban of alcohol by registering their vessels elsewhere, has continued to this day. Nowadays, organisations are predominantly seeking cost savings via lower fees and/or taxes. The term 'flag of convenience' was hence coined and these days the great majority of cruise ships are flying flags which are different to those of the brand's headquarters (92%).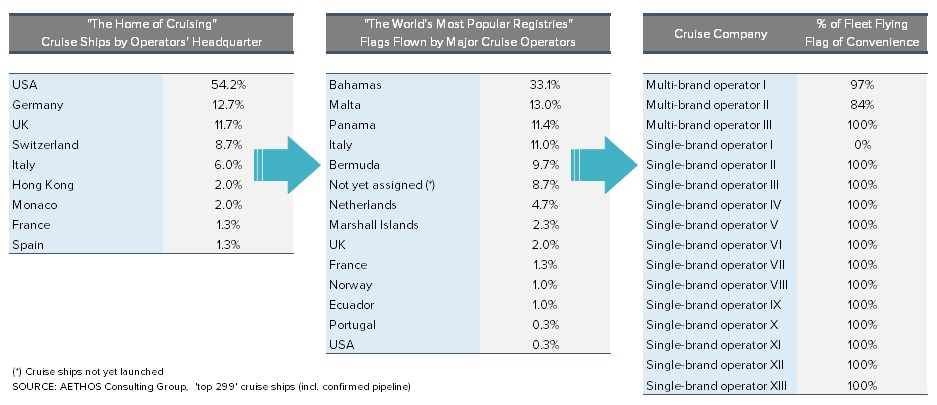 Naturally, any savvy business leader will strive to maximize returns for its shareholders; it is their fiduciary responsibility and flying a flag of convenience holds financial appeal. Voices raised by third parties about operators who chose such a strategy in order to drive profitability are thus not of concern here, nor a point of discussion – at least not from a commercial business perspective.
Does Flying a Flag of Convenience Have Ramification When it Comes to Attracting Talent?
Flying a flag of convenience can be viewed by some as responding purely to the needs of investors – but does it have an impact, positive or negative, on some of the other stakeholders of a firm, e.g. the employees? The fact is that often, by outsourcing the flag, an operator is also subject to more lenient labour laws in the form of less stringent minimum wage and benefits requirements, inferior employment protection and limited ability for employees to form unions. Frequently, the environmental gold standards also differ from the home country. Moreover, flying a foreign flag can make it difficult for employees to bring cases of criminal activity on-board back to their home jurisdictions for legal action…seemingly, not the best of outlooks then for employees. But, do they care? Research shows that individuals today are clearly concerned about socially responsible behaviour and good business ethics (i.e. CSR). For example:
A study researching a potential correlation between a firm's Corporate Social Performance (CSP) and its reputation and attractiveness as an employer concluded that indeed the relationship is a positive one; i.e. results indicated that "a firm's CSP may provide a competitive advantage in attracting applicants" (Turban, D.B. & Greening, D.W. [2017]. Corporate Social Performance And Organizational Attractiveness To Prospective Employees. Academy of Management Journal, Vol 40, Iss 3.)
A research paper investigating a job seeker's perception of importance of CSP and its potential impact on an organisation's attractiveness as an employer found that, whilst some sub-segments within CSP were considered more important than others, what a firm does overall in the area of CSP does have a re-affirming effect on its employer brand / attractiveness (Backhaus, K.B., Stone, B.A. & Heiner, K. [2002]. Exploring the Relationship Between Corporate Social Performance and Employer Attractiveness. Business & Society, Vol. 41, Iss. 3.)
An AETHOS study investigating the career priorities of Gen X versus Gen Y concluded that Gen Y concerns itself with career choices and a sense of purpose and, interestingly enough, also about social consciousness (Houran, J., Kefgen, K. & Gold, N [2017]. What Millennials Want: The Real Career priorities of Gen X vs Gen Y. Hotel Yearbook).
However, as pointed out by the AETHOS study, attitudes are at times poor predictors of actual behaviour. In fact, the research paper found that, according to Maslow's hierarchy of needs, "pragmatism trumps principle when faced with actual career decisions." In other words, at a high level, it seems that employees care about CSR. Yet, they do not always follow through and consider CSR when making key decisions as it relates to their career options. This bodes well for organisations who have opted to fly a flag of convenience – which, on paper, is at times at odds with what most would consider CSR best practice.
At a time in which large companies such as Google, Facebook or Starbucks are scrutinised for where they pay taxes, and how much, will flying a flag of convenience become a potential HR liability? Could the very loud voices criticising (and accusing) the (merchant) shipping industry for flying flags of convenience negatively affect the reputation of the cruise companies who are doing the same?
The clear answer to this should be a resolute "no." A cruise company's reputation as an employer of choice should remain intact as, although many of them do fly flags of convenience, they do a much better job than the shipping industry / merchant vessels in avoiding the HR pitfalls – precisely because they understand that '(brand) image' is key to their very own success. Reviewing the various corporate websites of the cruise operators reveals links and references to their HR best practices and the 'code of conduct and business ethics' as well as the 'modern slavery act' and the organisation's initiatives that address 'sustainability'. Yet, cruise companies and those organisations looking to move into the sector may be well advised to learn from other companies' mistakes. For example:
A study looking into the top 150 hotel companies in the world found "a large number of organisations reporting commitment to CSR goals, but a much smaller number of them providing details of specific initiatives undertaken to contribute to these goals and even less of them report actual performance achieved" (De Grosbois, D. [2011]. Corporate social responsibility reporting by the global hotel industry: Commitment, initiatives and performance. International Journal of Hospitality Management. Vol. 31, Iss. 3.).
A research paper investigating the transparency of hotel companies as it relates to their CSR best practices and testing the gap between CSR claims and actual practice concluded that official statements do not necessarily reflect actual operations. Larger hotel groups, for example, have comprehensive policies in place but are being let down by poor implementation (Font, X., Walmsley, A., Cogotti, S., McCombes, L & Haeusler, N. [2012]. Corporate Social Responsibility: The Disclosure-Performance Gap. Tourism Management, Vol. 33, Iss. 6.)
Cruise operators should thus engage in a more open dialogue, rectifying any potential misperceptions or grey-areas. Ultimately, potential employees will know that just because 'loop holes' exist (curtesy to some 'flags of convenience'), it does not mean that those are always being exploited. But not being able to compare 'CSR performance' might become a deterrent for some employees and senior industry leaders – particular in an age where even consumers have started to become much more conscious of CSR best practices, with a reported 2:1 cruise travellers preferring cruise operators with good CSR policies and best practices in place (Adams, S.A., Font, X. & Stanford, D. [2017]. All aboard the corporate socially and environmentally responsible cruise ship: A conjoint analysis of consumer choices. Worldwide Hospitality and Tourism Themes, Vol. 9, Iss.1).