On the topic of hospitality, technology and recruitment (as published in Hospitality Upgrade) 
Over the last several years, the function of the Chief Technology Officer (CTO) has become increasingly important to the success of almost every type of organization. Yet, despite its importance, it is still rare for hospitality firms to provide a board seat for this vital function. Consequently, the public profile of CTOs is often limited. So, what are the building blocks that form the profile of a successful CTO? And, what are the character traits that hiring committees should be looking for in a CTO?
The CTO 'WISH LIST'
In one-on-one conversations with senior executives at lodging and gaming companies around the globe, AETHOS sought input regarding the ideal CTO candidate. The leaders agreed that CTOs are the thread that both links internal departments together and connects firms to their customers. As such, senior executives who spearhead technology, systems and innovation are viewed as integral members of the executive committee. They set a firm's IT strategy and vision and are peers to the chief commercial officer, chief operating officer and chief financial officer. As with any other C-suite appointment, hiring committees are understandably nit-picky when it comes to selecting a CTO.
The findings reveal that three traits – emotional intelligence, a consumer-centric mindset and high cognitive skills – are front-of-mind when companies are selecting the right candidate.
Emotional Intelligence: Given the interconnected function of a CTO, senior executives and board members are looking for individuals who are skilled at connecting and engaging with others – successfully conveying messages and confidently leading teams. Knowledge-sharing is also regarded as critical. Moreover, as CTOs routinely encounter resistance to change, their ability to secure buy-in from others is often probed during an interview.
Consumer-Centric Mindset: CTOs must listen well and anticipate business needs with a view toward ensuring that the right solutions are being formulated in advance. Systems, processes and tools need to be fit for purpose and flexible enough to be tweaked, as necessary, in an ever-changing business environment. CTOs must deal with many different customer types – both internally and externally. Aligning everyone's needs and wishes is often a delicate balancing act and one that requires a tailored approach.
Cognitive Skills: The function of a CTO is one in which the individual in question is required to look at the fine print – rules and regulations limit the scope, while increasingly demanding consumer expectations are constantly trying to push the boundaries. Successful CTOs must possess that rare combination of a highly analytical mindset that allows them to look at the details and a creative and strategic mind that allows them drive innovation.
The CTO 'REALITY CHECK'
With the above wish list in mind, AETHOS reviewed the profiles of top-performing CTOs and/or SVPs of technology at hospitality organizations around the world. Based on a confidential proprietary psychometric assessment (2020Skills), AETHOS looked at the profiles of those senior leaders, aiming to discover how the current talent pool would fare on this not-so-hypothetical scorecard. Overall, hiring committees will be pleased with the findings.
CTOs at large internationally-operating lodging companies display above-average people skills, an ability to work together in teams to drive things forward, coupled with excellent communication skills. At the same time, these CTOs also display an analytical mindset as well as highly developed strategic acumen.
CTOs at smaller lodging companies appear to work a bit more in isolation, displaying character traits of sole contributors. They are more autonomous, less team-centric, and overall more efficient communicators with a direct no-nonsense attitude. Although equally analytical in their thinking, CTOs at smaller firms are focused more on the 'here and now' and are less concerned about long-term strategies. The latter, of course, might reflect their firms' shallower pockets.
CTOs at gaming companies are more nuanced They have comparable cognitive skills to senior executives at large lodging companies, and they display team-centric attitudes and well-developed communication skills. Where they differ is in their leadership style. They are more hands-off and demanding of their teams, and they expect the people who work for them to be self-directed and experts in their own right. Moreover, out of everyone surveyed, they seem to operate in a silo, possibly a reflection of the stringent rules, regulations and guidelines within the gaming and casino world.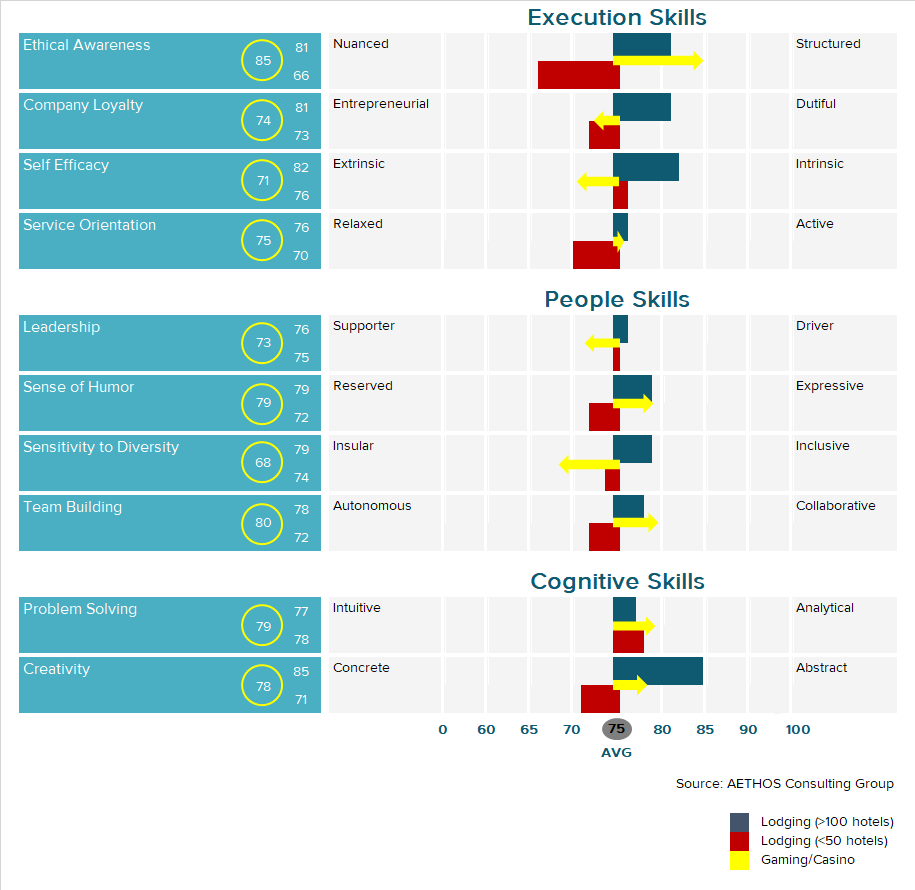 Looking Ahead
In the last 18 months, we have seen a flurry of changes at the senior leadership level within technology departments at major hospitality companies around the globe. Accor, IHG, Choice Hotels International and Viking Cruises, for example, have all been in the market for new CTOs. Looking at some of these new candidates, it becomes apparent that the industry is taking different approaches to filling that function. Firms are considering internal versus external hires, and they are looking at several industry sectors from which to recruit. The hiring committees will have gone through their due diligence process, and chances are they will have honed in on the three character traits the industry has used to describe and define their ideal CTO candidate.
However, AETHOS' findings indicate at least one area where the current CTO talent pool appears to show room for improvement. From the psychometric assessments, it appears that current industry CTOs are bogged down by guidelines and lengthy tasks lists that may hinder their ability to respond quickly and efficiently to ad-hoc requests and needs. In a fast-paced function in which proactiveness, service orientation and customer-centric thinking is key, this is suboptimal. Hiring committees would do well to question their candidates about this going forward.