Hospitality companies can profitably study and learn from the business, branding and technological lessons born from the cruise sector. What this "niche" accomplishes is nothing short of remarkable – it is a unique amalgam of hotel, restaurant, gaming, entertainment and travel-tourism components, all packaged within a mobile resort that is typically global in its operations.
It is also a fierce competitive force for the broader hospitality industry. According to the '2018 Cruise Industry Outlook' report published by Cruise Lines International Association (CLIA), the demand for cruising has increased over the last five years by nearly 21%, with 27.2 million passengers expected to cruise in this year alone.  The vast majority of passengers still hail from the US, followed now by China and Germany. This means that growing the market share is an opportunity to be tackled by the various cruise lines.
Here we profile the current leader in the space – Royal Caribbean – and notably its international vertical. The idea was to understand what they are doing that works, and how their wins in branding and guest experience speak to the trends that exemplify the next phase of strategic approaches for cruising. Indeed, there are many ideas and insights to be mined by the wider hospitality community.
A First-hand Brand Experience…
AETHOS' own organizational psychologist "Dr. Jim" recently had the privilege and delight of being a "time traveller." Few people can know the excitement that the guests must have felt when boarding the grand RMS Titanic in 1912 – the largest ship afloat at the time. But Dr. Jim can relate, as he was invited on the maiden voyage of the world's largest cruise ship as of 2018 – the MS Symphony of the Seas, the latest Oasis-class, owned and operated by Royal Caribbean Cruises. Of course, unlike the Titanic, Symphony's story isn't a tragedy.
Google the ship's name and you'll see 18 million hits about this behemoth of cutting-edge engineering. It was a media sensation leading up to its inaugural launch, and it's a supremely impressive technological marvel when pondering its vital statistics – standing 238 feet high, measuring 1,188 feet long, capable of hosting 6,680 passengers and costing 1.35 billion dollars (USD). But beyond its impressive physical presence, Dr. Jim was also privy to the company's equally impressive market and financial achievements, as well as the bold plans that define Royal Caribbean's future branding initiatives.
As consultants to its international division, only so much can be disclosed. Yet, what can be shared serves as a case study in one company's commitment to evolving and innovating its brand experience, and more broadly speaking, the current and upcoming standards in the cruise industry.
Cruising in the Present…
Our case study puts Royal Caribbean's latest operational and guest experience effort – Symphony of the Seas – to the test. Onboard its maiden launch was a host of media, travel agents and Royal's own employees on vacation. And among this audience, were two mystery shoppers who fit the target demographic of Royal's sales and marketing campaigns – one was a Millennial with good disposable income for leisure activities, while the other was a seasoned marketer who's "new-to-cruise" and difficult to please. Interestingly, both mystery shoppers pinpointed the same "wow factors" in their experience — here's what stood out to them and why:
Unbounded space. Think ship-bound, and one might imagine little better than the unpleasant, cramped space of air travel. But instead, the mystery shoppers noted the excellent space activation onboard – even spaces as large, albeit naturally limited, as Symphony. Here space activation means more than offering many types of activities for diverse guests. It entails creating an "organic flow" among spaces that allow guests to avoid feelings of mental or physical confinement. This concept is used to describe the surface area of a sphere (and even the physical nature of the universe itself) – that is, a physical area that is "finite but unbounded." This core principle has been used effectively by retail outlets, most notably the women's clothing and accessory store, Anthropologie.
Aesthetic diversity. Think ship-bound, and one might imagine little beyond the cold and impersonal elements of mechanical or engineering infrastructure. But instead, the mystery shoppers appreciated how space activation was coupled with aesthetic diversity to produce different moods around the ship. One moment you can feel like a Las Vegas high roller consumed by jazzy lights and music, and in another moment, you can take a relaxed stroll through Central Park. There's something for everyone, and this is about more than merely disrupting potential monotony in the décor. It's a concept that parallels current trends with boutique or lifestyle hotel concepts that capitalize on art, architecture and general design elements as differentiators, as exemplified by brands like Proper Hotels and Four Seasons Hotels. Art expert, curator and consultant Elizabeth Weiner often speaks about this topic at industry conferences (https://bit.ly/2ECBuPu).
Experiential segregation. Think ship-bound, and one might imagine a "mosh-pit" of unstructured activity that ensures everyone is distracted and no one is having fun. But instead, the mystery shoppers called out how well space activation and aesthetic diversity was suitably segregated to appeal to specific age brackets. The ship experience is meant for entire families, couples on retreat or singles looking to expand their horizons. Customizing spaces for different motivations or demographics helps to ensure everyone gets the vacation getaway they expect. Perhaps this is most evident in the thoughtful design given to the "kid spaces" – where safety and security are constant, but the activities vary by maturity. The younger set will gravitate to the traditional water games and arcades, but teens can take the fun steps further by having their own spaces to congregate and indulge in offerings like "The Abyss" gigantic slide or captivating virtual reality games. All while the kids and adults don't intrude or otherwise bother each other. No more patchwork quilt of amenities.
"The little things". Think ship-bound, and one might imagine that much gets missed in the enormous complexity of operations. It makes sense – focus on the big things and the little things can get overlooked. It's a dilemma that happens at work and home. But instead, the mystery shoppers consistently pointed out the little touches and details that make an even great experience that much more memorable. Examples include associates smiling and telling guests from where they hail (emphasizing the brand's international character); the mandatory but boring safety lecture and review that was transformed into a fun Hollywood vignette; and the clever and entertaining applications of technology to make the cruise experience more accessible and efficient (can you saw robot bartenders and mobile-concierges to help select and book shoreside excursions). And one of the biggest "little details" heard from the mystery shoppers and other guests was the ridiculously decadent chocolate cake that could easily feed four people. This one culinary dish had an impact as large and positive as any of Symphony's "Broadway" style shows or colossal "adventure" attractions on the decks. In fact, these types of little things are what guests told us they most shared on social media. This point can't be overstated. Think about it, out of all the grandeur of a billion-dollar ship, it was often the little details, nuances and experiences that drove guest satisfaction and viral advertising.

Cruising in the Future…
Royal Caribbean has achieved what others in the broader hospitality industry constantly talk about – perfecting the concept of 'place making' that holds appeal for everyone, and not just a small niche market segment. This not only involves the ideal space activation, but also establishing the right kind of social platform that promotes a balance of interaction and seclusion. You can tell when a given concept is successful, when guests are found throughout the ship's space versus simply and predictably clustering at the bars.
Keeping in mind the latest statistics, with many of the world's port destinations running at full capacity, Royal Caribbean's strategy to once again put the ship back at the centre of attention is a smart one. Going forward, we expect to see more firms pursuing a similar avenue. Already, we read about various cruise companies buying or even creating island destinations – Norwegian was the first to take on the 'island buying' trend in 1977 when it bought Great Stirrup Cay from Belcher Oil Company. Disney Cruises, Holland America, Princess and Royal Caribbean followed suit. The latter is currently giving its Bahamas Island, CocoCay, an USD$200 million face-lift.
The trend to go big, as Royal Caribbean has done with the Symphony of the Seas, is also noticeable and the future cruise pipeline speaks volumes (see graph below showing an almost steady increase in gross tonnage and capacity over the past few decades). It is a trend that has been long in the making and was initially driven by the desire to broaden the customer base, and ultimately increase affordability.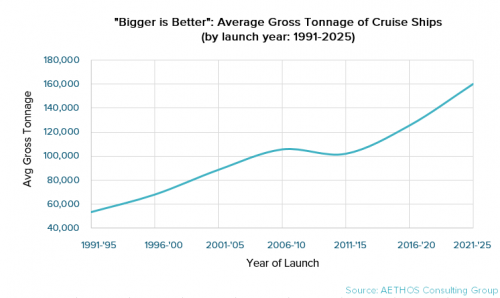 Yet, it is worthwhile to remind ourselves that Royal Caribbean has not only gone big, but it has also ensured that its latest vessel manages to have mass market appeal whilst being surprisingly 'bespoke'. One might argue that this is representative for the cruise industry's second iteration cycle – one which is defined by brand differentiation, product diversification and brand innovation. Cruise companies have understood that 'volume' does not automatically trickle down to the profit line. It has become a question of striking the right balance between offering the perfect ship and facilities, with the right design aesthetics as well as the most considered itinerary and program of activities, both onboard and offshore. And all this while keeping in mind that the profile of the average cruise customer has also changed – we have the experienced cruisers, the first-timers, the Millennials and Gen Y and Xers, as well as – the most exciting customers of them all as they represent a huge untapped opportunity for most cruise operators – the up-and-coming affluent Asian travellers. On this latter point, CLIA's 2017 report noted that the absolute volume of cruise travellers sourced from Asia has quadrupled since 2012, and the number of ships deployed in Asia grew 53% since 2013 – in fact, China is the main driver of growth in the region and the world when it comes to passenger volume, followed by the US.
What the innovative cruise operators like Royal Caribbean are currently doing is shaping the industry for a new breed of cruisers years to come. It appears that the seemingly impossible goal has largely been reached – the 'one-ship-fits-all' approach that simultaneously offers uniquely customized and targeted holidays for each of its guests. And in the process of delivering on bold business visions and brand promises, the cruise industry arguably is also helping to define product, service and pricing standards that put positive pressure on all hospitality sectors to reflect soberly on their own performance and brand positioning… and up their game accordingly.
Acknowledgments
Thanks to Gavin Smith, Adriana Machado and Michael Bayley for Dr. Jim's participation in the Symphony of the Seas maiden launch activities. He is still digesting the incredible chocolate cake.