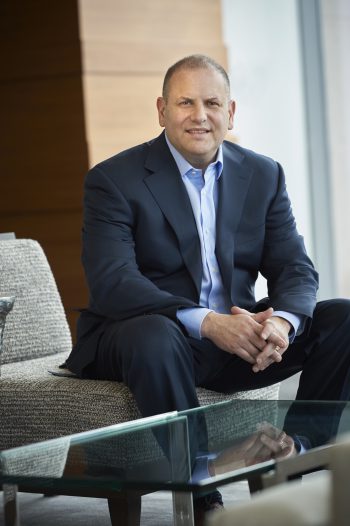 Josh Lesnick, President & CEO, Associated Luxury Hotels
AETHOS recently "picked-the-brain" of Josh Lesnick, President & CEO of Associated Luxury Hotels – the parent company of Associated Luxury Hotels International (ALHI) and Worldhotels. Both are leading global hospitality services organizations that specialize in luxury-level and upper-upscale independently owned or operated hotels and resorts around the world. Associated Luxury defines success as enabling their member hotels to maintain an independent identity while competing effectively with the world's biggest hospitality chains.
Lesnick is no stranger to leading complex global teams, having recently served as the Executive Vice President and Chief Marketing Officer of Wydndham Hotel Group. Given the hospitality industry's ever-changing landscape, AETHOS wanted to gain insight about how Josh successfully navigated the acquisition of a highly-respected brand, simultaneously created a 'synergistic' culture between WorldHotels and ALHI, as well as preserved the best of the 'individual' cultures upon each was founded. Our conversation culminated in learning how Josh best develops and leads a sophisticated and truly global sales force. Spoiler alert – there is some reimagining ahead.
Since taking the helm, Associated Luxury Hotels has made a lot of positive noise with the acquisition of WorldHotels, growing the member portfolio for Associated Luxury Hotel International (ALHI) and making several executive-level hires. What are you building all this momentum towards?
Our mission is to be the voice and trusted resource for independent luxury hotels for both consumers and meeting professionals. Rather than strictly being a membership company that collects monthly dues, our goal is to be a topline revenue generator for our hotels. With recent acquisitions in the industry, such as Marriott of Starwood and AccorHotels of Fairmont, there is an unprecedented consolidation of hospitality brands. However, an interesting statistic is that two-thirds of all hotels around the globe are independents and not part of big brands.  This gives us a great opportunity to provide many of the benefits that a big brand offers without requiring our members to sacrifice their independence.
To achieve this, we are very focused on bringing in best-in-class talent to help us expand WorldHotels and grow the ALHI portfolio. This is the first-time that hoteliers are running WorldHotels, which was previously owned by a technology company. The difference now is that our leadership team truly understands the importance of a customer-centric approach in driving revenue for our properties. Our aggressive growth strategy is completely customer-driven.
How do you best assess executive-level talent for competency and cultural fit, specifically when it comes to leaders across the sales, marketing and commercial functions of our business?
When assessing a candidate, I place an enormous value on a person's cultural fit and what job they may have in the organization in 2-4 years.   I rarely hire someone just for a specific role as the market is so dynamic today that you need that kind of flexibility and depth within your organization.  I also place a very high value on people who are able to inspire other people and who can think on their feet, are not afraid to propose bold ideas, and who challenge outdated ways of doing things.
With two different but complementary business units, how have you and your leadership team created a 'synergistic' culture between the WorldHotels and ALHI while simultaneously maintaining some of the 'individual' cultures each was founded on?
Since the acquisition of WorldHotels, we've operated ALHI and WorldHotels as separate entities. However, this is about to change as we are now very focused on more closely aligning our two two sales teams to drive more revenue for our member hotels. We have already begun to roll out shared services in areas such as finance, portfolio development, and human resources. Striking the balance of ensuring you take the best of these two long-standing companies and supercharge it with new and fresh ideas is one of the hardest things you can do as a leader.  It requires open communication and a willingness to continually listen and push associates to think differently and share their ideas and concerns.
As a leader of a substantial global sales force within a highly 'customer-centric' environment, how do you promote employee engagement to best ensure success for your business?
At the end of the day, I believe all associates want to have a voice and want to have a say in their company's success.  In my prior role, I had a very large team in one location. Several times a week I would have my assistant block a few hours and do "walkabouts"-simply walk through the department and casually engage associates to see what they were working on and get their feedback.  I remember an instance where I startled one of my employees working in her cubicle. She told me the last CMO didn't know her name and never seemed interested in what she was working on and how we could make it easier for her to do her job. Several people advised me to not over expose myself and limit access intentionally. Personally, I think great leadership is exactly the opposite. Great ideas come from all levels of the organization and getting unfiltered honest feedback is critical in today's rapidly evolving workplace and markets. decisions. It's easy to get insulated and loose touch and you need to work to not fall victim to that way of thinking and operating. An approach like this also really starts to tear down the silos and the walls and gets people to start to share the ideas they have had but never had a forum to exchange.  Without a doubt, I get my energy and motivation from associates and exchanging ideas.
Knowing that the hospitality industry is 'high-touch' and ever changing, what advice do you have for future sales leaders to prepare for running the business 10-15 years from now?  Any words of wisdom from your own experience?
Make sure to surround yourself with people who are open, honest, and flexible. Strike a good balance on using data but also talking to your employees and customers to make sure you use the information you have in a way that creates value for them.   Be authentic and establish who you are, the culture you want, and then spend the time to ensure people are all driving to the same end game and goals.