Board directors have been looking forward to a break with 2010 seen as a transitional year and the beginnings of an economic turnaround. The industry continued to make some performance improvements, yet lending and capital return requirements have hampered acquisitions activities for many companies with the exception of the REITs. Shareholders are looking for growth at long last and public boards and management teams should be prepared.
In the 13th annual study of US board performance, LaSalle Hotel Properties landed on top, which it has done on several other occasions, overtaking Starwood Hotels & Resorts, last year's winner. The survey includes 33 companies, four more than the prior year, as a result of a several new REITs initiating IPO's in 2010. Download our findings here.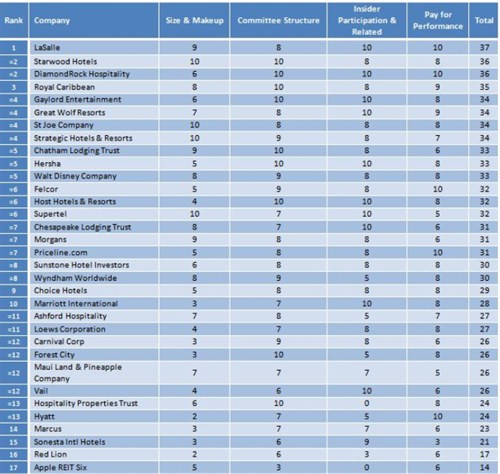 As in prior years, we examined and ranked companies in four key areas of corporate governance:
Size, makeup, and independence of the board;
Committee structure, number of meetings and effectiveness;
Extent of insider participation and related transactions;
Pay-for-Performance models for board and executive pay.
Size & Makeup
In this year's study, five out of 33 companies, including LaSalle, had the components of what experts would agree make up a best practice board structure: A total of between five and eleven directors, with preference for an odd number; a Chairman who is an outsider; and greater than 75% of directors who are independent outsiders.
This year: As we've articulated in years past, there are still too many insiders on hotel boards. One notable improvement in 2010, however, is that three more companies appointed a Lead Director where an inside Chairman was present and the proportion of companies with Lead Directors in place approached nearly 50% for the first time in the history of this survey. We applaud this movement toward greater independence.
Committee Structure
Boards of Directors are required by the SEC to form the following four committees: Audit, Compensation, Governance, and Nominating Committees.
This year: Boards are continuing to make important strides in this area with eight out of 33 companies achieving perfect scores in committee structure, slightly ahead of last year. Committees met more in 2010 than in any previous year. Challenging economic times have made boards more aware of their impact on strategy, risk and long-term viability.
Insider Participation & Related Transactions
This year: Average insider participation and related transactions stayed relatively flat this year over last. While insider participation continues to decline, the same number of companies had some form of related transaction in 2010. A related transaction is one where two parties are joined by a special relationship prior to the deal, which can create a potential conflict of interest. More disclosure in this area continues to be necessary.
Pay-for-Performance
This year: Five companies achieved perfect scores in pay-for-performance this year, a few more than in the prior year. Particularly laudable is the increase in number of companies that have either adopted or increased stock ownership guidelines not only for their board members, but also for their named executive officers. We hope this trend will continue and would also like to see ownership requirements increase to better align shareholder interest with both executive and board performance.
Say on Pay
As a result of the 2010 Dodd-Frank reform requiring shareholder approval of executive compensation, companies asked shareholders to weigh-in on executive compensation as recommended by the compensation committees as well as vote on the frequency with which such votes would occur. Some companies recommended annual votes, while others recommended a shareholder vote every three years. Regardless, these "non-binding and advisory" render such votes rather meaningless, in our opinion. Unless shareholders are sitting in compensation committee meetings and working closely with third party compensation consultants that can provide a macro view of executive compensation, they are neither well equipped nor qualified for this type of vote.
We continue to see improvements in hotel board performance and predict that this will continue in coming years as the next generation of board members begins to emerge. We congratulate LaSalle and all of the other top performing boards.